Who is online?
In total there is
1
user online :: 0 Registered, 0 Hidden and 1 Guest
None
Most users ever online was
52
on Thu Jul 04, 2019 12:52 am
Basics:
Name: Skystar, was Skyheart
Nickname:
Big Momma
Gender: Female
Species: Eurasian Eagle Owl
Age: 8
Clan: Skyclan
Decription+Picture:
Wingspan: 70 inches
Height: 30 inches
Weight: 5lbs
Skystar's great size, bulky, barrel-shaped build, ear tufts and orange eyes make this a distinctive species. The ear tufts of males are more upright than those of females. The upperparts may brown-black freckling on the forehead and crown, stripes on the nape, sides and back of the neck, and dark splotches on the pale ground colour of the back, mantle and scapulars. A narrow buff band, freckled with brown or buff, runs up from the base of the bill, above the inner part of the eye and along the inner edge of the black-brown ear tufts. The rump and upper tail-coverts are delicately patterned with dark vermiculations and fine wavy barring. Her facial disc is tawny-buff, speckled with black-brown, so densely on the outer edge of the disc as to form a "frame" around the face. The whole of the underparts except for chin, throat and centre of upper breast is covered with fine dark wavy barring, on a tawny-buff ground colour. Legs and feet (which are feathered almost to the talons) are likewise marked on a buff ground colour but more faintly. Her tail is tawny-buff, mottled dark grey-brown. The bill and feet are black, the iris is orange.
Her voice is rather strange, especially for a female. But being part of the largest owl species she has a deep voice for a woman and at her age! Her voice is deep, not very lady like at all. But oh can the gal sing!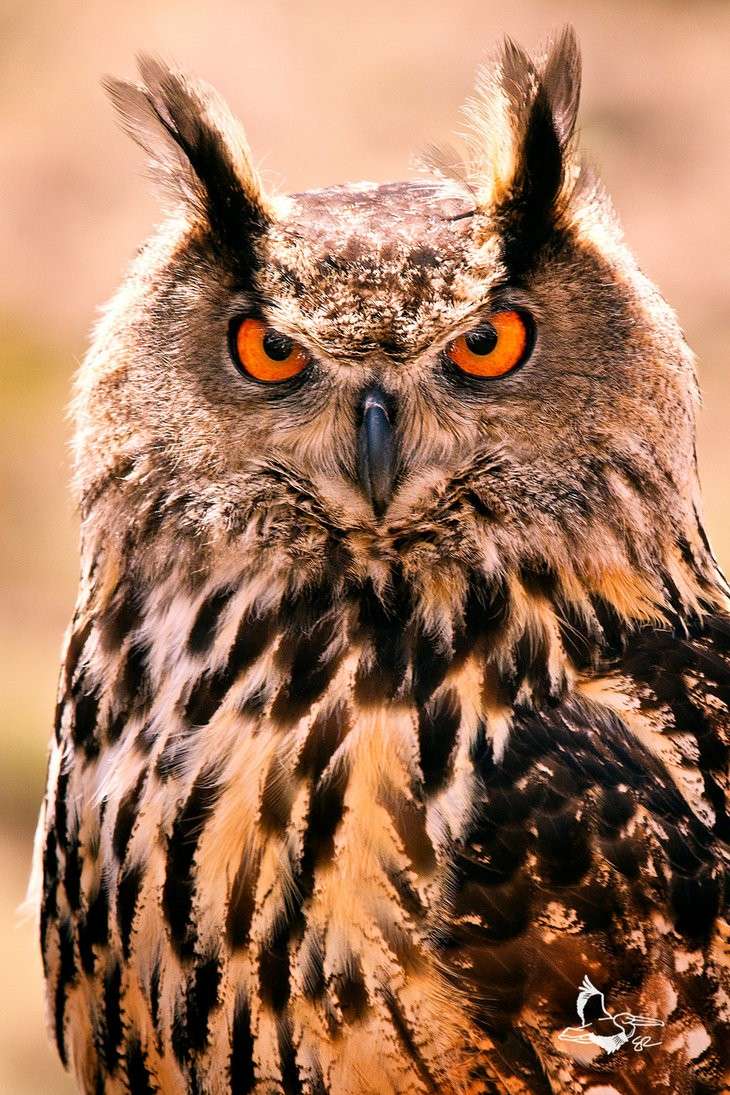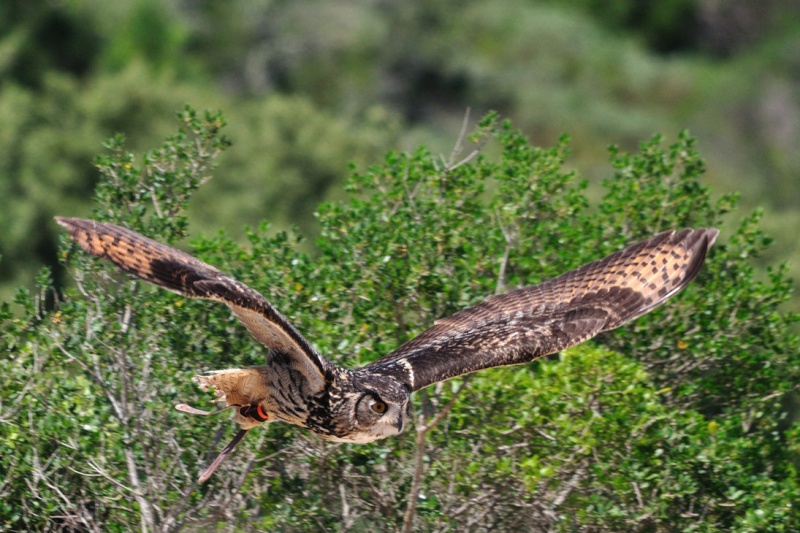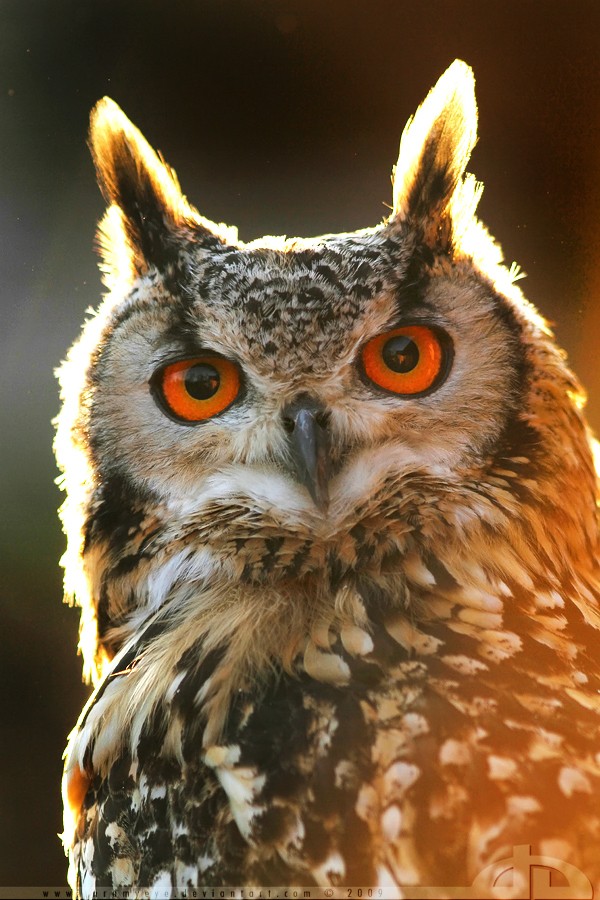 Digging Deeper:
Personality: Sky can be compared to that aunt that never got married, or even that weird lady who ever got married down the street. Yet she isn't like the crazy cat lady either. She is fun and loveable, honest and true. She is always there to help. She's big and feathery enough to wrap her large expanded wings around several of those she cares about. Sky has been compared to that really big nice lady whose love spreads around all the time. She loves to laugh at her own jokes and though they aren't usually funny, others feel in debt to her for no reason. Her mere appearance may make the big softie look like a big meanie but shes kind and sweet hearted. But don't get me wrong, she ain't no easy girl to push down either or one you can dance on and all she will do is whisper, "stop it". A master with battle claws and a blinding fury with a sword, you better watch out for this old gal. She is old but she is very wise. She will not take threats or challenges lightly but does know how well her clan can do. She does enjoy a good fight but peace for this old feathered bird is more important. Watch out and make sure you're on her good side. The older female is quite brutesque as well and acts a bit guyish, tomboy you can say but not really. She throws her size around when needed. Has been mistaken for a guy though.
History: Sky was the leader of the Battle chaw but also for a while she was part of the blacksmithing, colliering. navigation and search and rescue chaws as well as most of the others. But she exceeded mostly in these. When the war broke out she was a first choice to lead and she did so, though she was older.
Fears: Hurting those she cares about, becoming hard and cold herself.
Strengths: Battle, kindness, blacksmithing and navigating
Weakness: Never learned the right herbs and also, though very big and quick on wing she can be a bit clumsy.
Deep Down:
Crush: Pah!
Mate: Ha!
Owlets: Psh!
Friends: Eh...
Enemies: Eh...
Leader




Posts

: 72


Join date

: 2013-03-15


Age

: 22


Location

: Cracking jokes in Skyclan!



Similar topics
---
Permissions in this forum:
You
cannot
reply to topics in this forum